Pentru noi, un partener nu este doar un client care a ales să-și eficientizeze procesele de mobilitate globală. Un partener este o entitate alături de care putem crește, evolua – pe care ne putem baza, în aceași manieră în care se bazează acesta, pe noi. Ne aduce un sentiment de bucurie intensă să observam talentul lor global preluând conducerea noului rol ca și cum ar fi doar o altă zi de lucru productivă în țara lor gazdă.
Industrii de top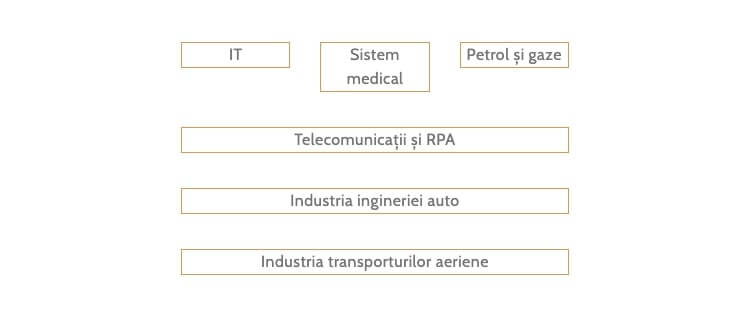 Totul devine mai ușor atunci când ai un partener de încredere care te poate susține pe tot parcursul procesului de mobilitate globală. Ne mândrim cu o echipă de experți în consultanță care vă vor ajuta cu implementarea tuturor pașilor necesari succesului proiectelor voastre.
Partener Corporate
Aveți dorința de a vă simplifica procesele de mobilitate globală? Ne putem ocupa de toate procesele mobilității globale, de la imigrare la relocare, dar și servicii fiscale. Tot ce avem nevoie este să ne detaliați nevoile companiei voastre iar noi vă vom găsi soluțiile cele mai potrivite, astfel încât să îi menținem pe expatriatii voștri cât mai comfortabili, iar bugetul în limitele definite inițial.
Partenerul tău în mobilitate globală
Ești în căutarea unui parteneriat strategic cu o altă companie de mobilitate globală care oferă servicii în România și Moldova? Descrie-ne afacerea, procesele pe care le gestionați și organizațiile profesionale din care faceți parte, iar noi vă vom sfătui astfel încât să urmați cea mai potrivită cale înspre succes.
Contactați-ne astăzi pentru a discuta potențialul unui parteneriat cu Nestlers Group!
Connect with Nestlers consultants
Do you need immigration and relocation services or consultancy?
It's easy! Use the below contact form and one of our experts will provide you an answer as soon as possible.
Our consultants can help you in obtaining legal documents and can provide you with assistance regarding the immigration processes, relocation, taxes and payroll, Social Security (European forms A1, S1, U1, etc.) for your employees.