Hi, there! So, you finally took the big step and moved to Cluj-Napoca, Romania. Living and working here will become part of the most exciting experience you could have if you know how to spend your free time. And trust us, there is plenty to see and do here in the city. So, do your best to finish your work so you can do some exploring afterward.
1. Unirii Square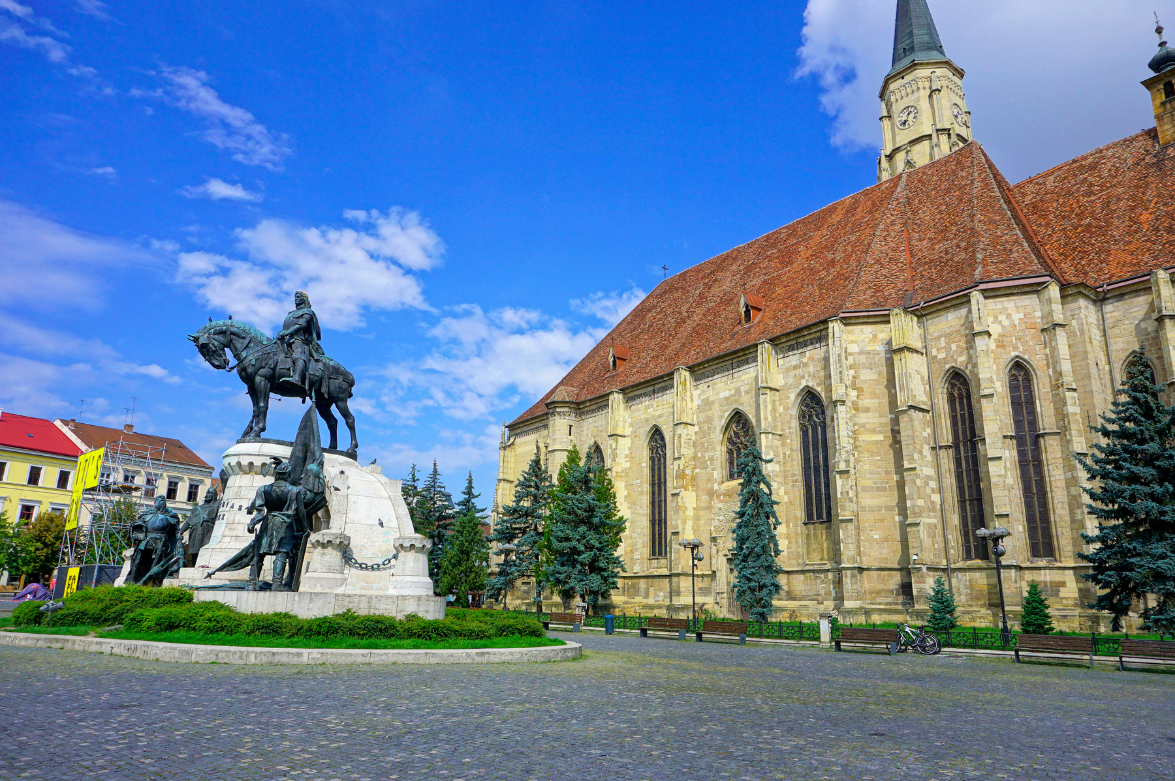 Unirii Square in Cluj-Napoca is just amazing! It's located right in the center of the town and it's surrounded by so many fantastic restaurants, fast-food places, bars, and cafes. But the real star of the show is Saint Michael's Church, a stunning gothic architectural monument that's one of the main symbols of the town. You'll see it on so many souvenirs!
During the Zilele Clujului festival, the main stage is set up at Unirii Square. Known for hosting some of Romania's most celebrated performers, this is the ideal location to witness their performances if you happen to be in the area during this particular celebration.
2. Muzeului Square
Muzeului Square is the perfect place to take a break and grab a drink or a bite to eat. It has everything you could need and more! The square has been turned into a pedestrian area, which makes it such a pleasant place to spend time. During the summer months, there are a variety of terraces set up, so you can enjoy the warm weather while feeling refreshed.
There is plenty to see in this area as well. You can visit the Franciscan Church and take some photos at the Carolina Obelisk. You can also visit the Matthias Corvinus House. This historic building is over 500 years old and is one of the oldest in the area. Built in the Gothic style, it has served many purposes throughout its fascinating history, including as a jail and hospital. Today, it is home to a visual arts institute where you can explore the rich cultural heritage of Transylvania.
3. Central Park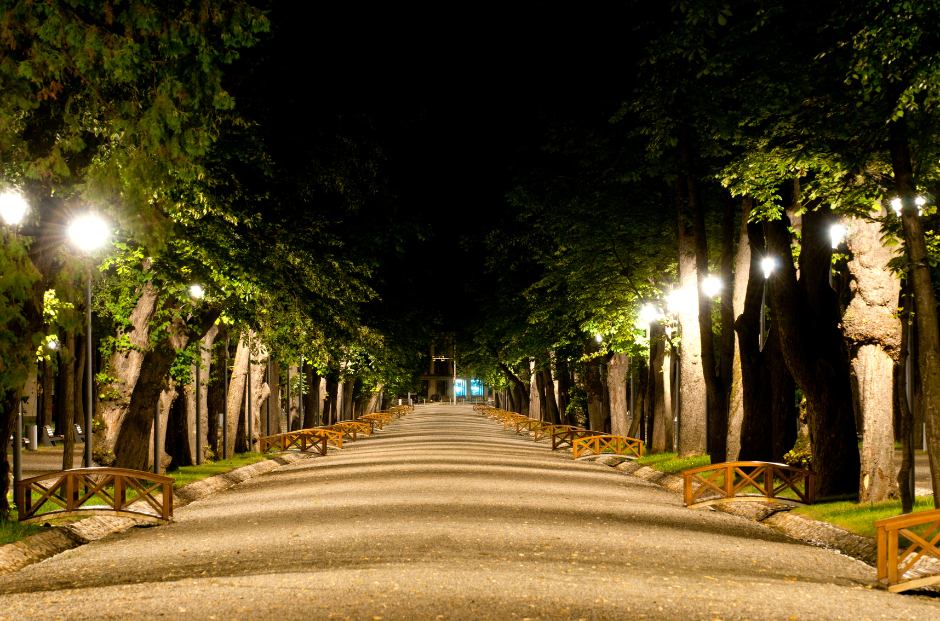 The central park in Cluj-Napoca is absolutely amazing! It's such a massive park with an incredibly long main alley that's surrounded by towering trees. Plus, there are these cute miniature wooden bridges that kids would absolutely love! And the fact that you can bring your furry friend along for a walk, makes it an even more beautiful place. You could easily spend a good few hours here.
There's so much to do, from exploring art exhibitions at the Casino to taking a nap in your hammock. You can even go on a bicycle ride even if you don't own a bicycle if you sign up for a free card from ClujBike. And if that's not enough, there is also a breathtaking lake where you can watch the ducks and swans. You should definitely try out a water bike ride while you're there.
4. Take a walk in the Botanical Garden
If you are a nature lover, this is the place to go! From the moment you step in, you're greeted with a magnificent display of tulips, roses, herbs, and rocks. The fact that you have a choice of various paths and alleys makes the experience even more exciting.
There are multiple themed gardens here. From the Japanese Garden to the Mediterranean Garden, the Rosarium, the Australian Greenhouse, and the Roman Garden, each garden has its unique architecture and species of trees, aquatic plants, herbs, and flowers. The water features add a peaceful and calming ambiance to the garden.
5. Learn about Romanian traditions at the village museum
Tired of the busy city life? Spend a few hours at the National Ethnographic Park "Romulus Vuia", also known as the village museum. You won't even feel like you are in the city anymore.
this museum is truly spectacular! The oldest pieces date back to 1678, and include an absolutely stunning wooden church from Cizer-Salaj. The original buildings here are both simple and complex, with inscriptions dating back centuries. They are among the oldest and most valuable monuments of architecture in Romania's ethnographical heritage. With 34 technical peasant installations, 5 case workshops, 3 wooden churches, and a cemetery gate, there is so much history and beauty to appreciate here.
And if you are in the area, you can take a walk in the Hoia Forest, which legend says it's hunted. Just be sure to visit the forest after you see the village museum just in case the legends are true. Don't worry! We're just joking, but who doesn't enjoy learning about local legends, right?
6. Compare the buildings on the Mirror Street
The street reflecting the city in Cluj-Napoca is truly unique and a symbol of the city. The two symmetrical buildings at the western end of the street, almost entirely reflecting each other, create an amazing mirror image effect. This gives the street a wonderful harmony and uniqueness that is simply breathtaking! It's incredible to know that the architectural ensemble was completed in 1899, inspired by the works of the famous architect Hausmann, who restructured Paris in the 19th century. This is an incredible piece of history and architecture that truly stands out in Transylvania. A must-see for anyone visiting the area!
7. Enjoy a medieval event on Potaissa street
History is more fun than you can imagine. If you want to step back into medieval times, you can take a walk on Potaissa Street. There are multiple events going on there such as flower markets, wine festivals, and reenactments of medieval events.
Potaissa Street in Cluj is an absolute delight for anyone who craves a glimpse into the past! Nestled in the heart of the medieval center of the city, this street boasts one of the remaining pieces of medieval defensive walls of Cluj's old citadel! But that's not all, it also takes you on a journey to a world of fairy tales, enchanting knights and ladies, and true heroes through the Medieval Camps. Imagine seeing people in period clothing, fire shows, archery contests, and battles being reenacted right in front of you! It's a dream come true for both kids and grown-ups alike!
8. Admire the city from the Firefighters' tower
If you want to experience a piece of medieval history and take in some breathtaking panoramic views, you must visit the Firefighter's Tower in Cluj! This tower was first constructed back in 1574 as part of the city's second fortification. It was initially called the Tower of the Locksmiths and then went on to become the Tower of the Soapmakers.
Today, it stands tall and proud, one of the few remaining medieval defense towers in the city. The tower was used as a spot for signaling fires, a crucial requirement for effective surveillance of the surrounding area. And the best part? You can climb to the top of this tower and enjoy the stunning view from a height of 28.5 meters!
9. Visit Tailor's Tower
This 15th-century defensive structure has a unique circular shape and is made of stone and brick. It has four levels, including a rooftop terrace that offers panoramic views of the city. And that's not all! It's also home to the Tailors' Tower Museum, which showcases the history of the city's fortification system and the role of the Tailors' Guild in Cluj-Napoca's medieval history.
10. Admire the view from Cetățuia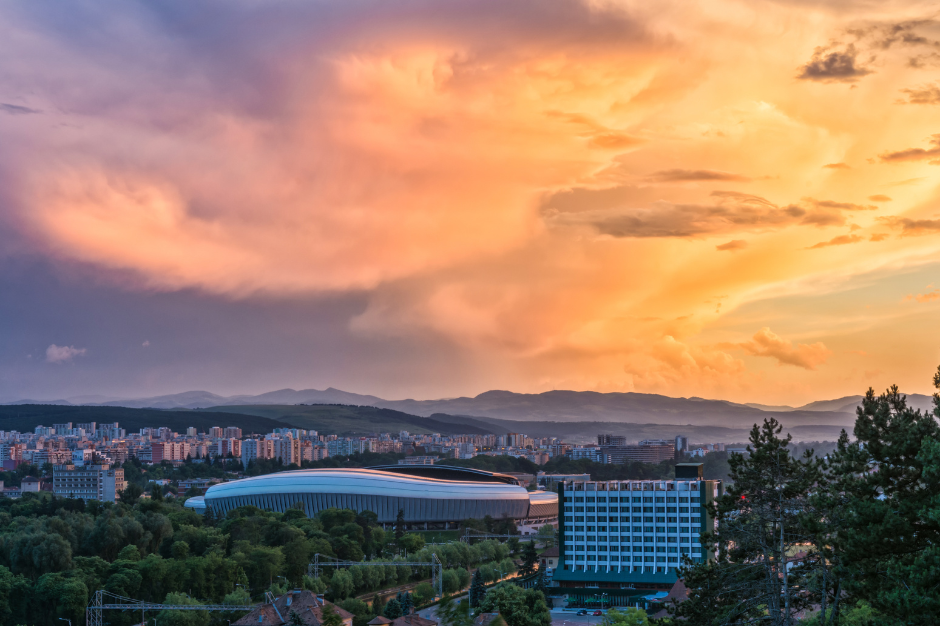 If you still have a little bit of energy left after you have visited all of the things on this list, you should climb a few stairs to reach the top of Cetățuia Hill. The view from there is simply amazing! And if you liked learning about Cluj-Napoca during medieval times, This place is worth visiting since it is part of another side of the walls of the citadel.
The best time to go there is at sunset. It is hands-down one of the most incredible views you'll ever see in a city. The colors of the evening sky are just unbelievable, and as the light fades away, you're left with a sense of peace and awe. It's one of those experiences that you'll remember for a lifetime.
So, as you can see, Cluj-Napoca is absolutely amazing! This vibrant city has so much to offer, from exploring its rich history and culture to getting lost in the beauty of nature. And don't even get us started on the endless options for relaxation in one of the many parks or cafes. It's the perfect destination for both locals and visitors alike! So, we highly recommend taking some time out of your busy schedule to experience all that Cluj has to offer. Trust us, you won't be disappointed!
Connect with Nestlers consultants
Do you need immigration and relocation services or consultancy?
It's easy! Use the below contact form and one of our experts will provide you an answer as soon as possible.
Our consultants can help you in obtaining legal documents and can provide you with assistance regarding the immigration processes, relocation, taxes and payroll, Social Security (European forms A1, S1, U1, etc.) for your employees.